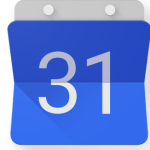 Are you trying to connect to Google Calendar API with PHP using Oauth2?  Would you like to show users their Google Calendar using PHP?  Do you need to access a users Google Calendar?    In this tutorial I will show you how to use the Google PHP client library to access the Google Calendar API.

Register your App
Before you can access any of the Google Apis you must first register your application with Google.    I have a short tutorial that walks you through creating a new application  Google Developers console.  There is one thing you need to add when working with a web application the Redirect URIs needs to be the location of the php file.     This setting is found in APIs & auth -> Credentials menu.
Make sure that you enable the Google Calendar API under APIS, and set a Product name and Email address.

PHP client library
The newest version of the Google PHP client library can be found on Github.   google-api-php-client  this client lib is updated regularly whenever anything changes.     You will need to copy the entire src/Google directory to the directory of your application.   I don't recommend only taking the files that you need unless you really know what you are doing.
Oauth2
There are 3 steps to Oauth2 this is why it is called 3 legged authentication.   In the first step you ask the user to give you access, second step the user gives you access,  third and final step you exchange the access given to you by the user for the access to the data.

The Code

setApplicationName("Client_Library_Examples");
    $client->setClientId($client_id);
    $client->setClientSecret($client_secret);
    $client->setRedirectUri($redirect_uri);
    $client->setAccessType('offline');   // Gets us our refreshtoken

    $client->setScopes(array('https://www.googleapis.com/auth/calendar.readonly'));


    //For loging out.
    if (isset($_GET['logout'])) {
	unset($_SESSION['token']);
    }


    // Step 2: The user accepted your access now you need to exchange it.
    if (isset($_GET['code'])) {
	
	$client->authenticate($_GET['code']);  
	$_SESSION['token'] = $client->getAccessToken();
	$redirect = 'http://' . $_SERVER['HTTP_HOST'] . $_SERVER['PHP_SELF'];
	header('Location: ' . filter_var($redirect, FILTER_SANITIZE_URL));
    }

    // Step 1:  The user has not authenticated we give them a link to login    
    if (!isset($_SESSION['token'])) {

	$authUrl = $client->createAuthUrl();

	print "Connect Me!";
    }    


    // Step 3: We have access we can now create our service
    if (isset($_SESSION['token'])) {
	$client->setAccessToken($_SESSION['token']);
	print "LogOut
";	
	
	$service = new Google_Service_Calendar($client);    
	
	$calendarList  = $service->calendarList->listCalendarList();;

	while(true) {
		foreach ($calendarList->getItems() as $calendarListEntry) {

			echo $calendarListEntry->getSummary()."
\n";


			// get events 
			$events = $service->events->listEvents($calendarListEntry->id);


			foreach ($events->getItems() as $event) {
			    echo "-----".$event->getSummary()."
";
			}
		}
		$pageToken = $calendarList->getNextPageToken();
		if ($pageToken) {
			$optParams = array('pageToken' => $pageToken);
			$calendarList = $service->calendarList->listCalendarList($optParams);
		} else {
			break;
		}
	}
    }
?>
Conclusion
This is a very simple example of how to connect to the Google Calendar API using Oauth2. This example can be edited to use the other APIs by changing the service that is created.
Working Version of this script can be found here: Google Calendar OAuth2 PHP