It looks like they are changing Google Analytics again.   I started getting wind of this change a few days ago but until today I couldn't see the change myself.  The changes are to the toolbar/SideBar and the header/Nav bar to me they look purely cosmetic.    If you don't have the new toolbar yet just wait a little longer everyone should have it in the next two weeks.
ToolBar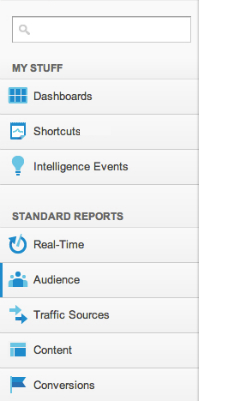 That is the old version of the Toolbar

That is the new one, it looks a lot cleaner to me.      I did find one nice surprise with this new toolbar.   Check out this little arrow at the top of the new toolbar

 I bet you can guess what it does.  It hides the tool bar so that now we can see the reports in full screen.   What a wonderful idea.
Header bar
There is also a change in the header bar.   To change between different accounts there used to be a menu at the top over the toolbar.    They appear to have moved that its now on the right, and admin has moved more to the left.

When I click on the account I get a full drop-down with all of my Analytics Accounts.  There is even a nice Recent Viewed list but it lacks the account and/or property name.  It appears to just listing the view (profile) name, this makes it a little hard when I have 3 accounts all with a default view.
Reports
A few days ago I noticed a couple of new reports under the Acquisition menu.
The Acquisition Overview  report shows Acquisitions, Behavior and Conversions grouped by the different channels.    I found this report very enlightening.  Almost the same number of people are finding my blog via Organic Search and Social.   But there is a slight increase in the number of Organic Search people that bounce.    Interesting I wonder if i can do something about that.     Acquisition-analysis examples
The Acquisition Channels report appears to go even deeper into the information from the Overview report.     You can check conversions on Goals as well as Ecommerce.   Interesting the Organic Search people are more likely to convert my 5 minute goal more then the Social people are.
The Last new report I have found is Cost Analysis (beta)  this has to be enabled and setup in order to work you need to upload some data.    Think to send more hacked data to Google Analytics again to test this.    I will get back to you when I have it working.
Conclusion
I have seen a few people around the net mention over the last few days that they had seen this change.    I have been unable to find any official information from Google until this morning when i found a post on Google+ GA Nav & Sidebar are getting a clean, sleek refresh.   So this is official but we may have to wait a few weeks before everyone gets to set this new sleek toolbar.
 Update
Its been almost two weeks now since this change went live, or since I finally got access to it.     I thought i would add a few notes to this post, ok maybe a gripe but……  my blog I'm allowed.
Whats up with the scroll bars?    There are two of them now one on the right and one for the menu.  The menu scroll bar appears to be in some kind of frame.    Didn't scrolling menu frames go out in the 90's?  Come on Google  some things like bell bottoms, side burns and scrolling menus in frames should be left to die and ever return.     See how long it takes before they fix it.    I have also heard a few reports that the scrolling isn't working in iPhone and iPad but i don't have access to either so cant test this for you.     If anyone can test this I would love a first hand account and maybe some screen shots feel free to email me at contact(at)diamto.com or send me a message on Google+.