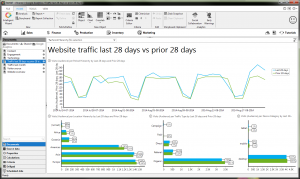 Would you like to extract your Google Analytics data into Microsoft SQL server 2005, 2008, 2008R2, 2012 or 2014? Do you have the ability to use SSIS? I am here to help you with that.
For the last two years, I have been working on a project here at TARGIT, called TARGIT for Google Analytics.    As part of that project, we have created a custom connection manager for SSIS that uses OAuth2 to connect to your Google Analytics account, and a custom SSIS data source reader to get your Google Analytics data for you.
TARGIT is a wonderful tool for viewing your Google Analytics data, if you currently have business intelligence solution in you company I recommend trying TARGIT Google Analytics.
TARGIT has also released the SSIS task and connection manager separately for use with your own SSIS solutions.   If you chose to download these tasks without downloading the TARGIT application, please note they are unsupported, it does not give you access to the TARGIT Google Analytics SSIS package and SSAS cubes we have created for our Business intelligence system. TARGIT doesn't charge for using the SSIS data-source reader and connection manger they are free for you to use as you wish.

Features
The TARGIT SSIS Data reader and connection manager work with the following versions of Microsoft SQL Server:
SQL Server 2005 Edition
SQL Server 2008/2008R2 Edition
SQL Server 2012 Edition
SQL Server 2014 Edition
SQL Server 2016 Edition
Features:
Secure Oauth2 Authentication
Support for Goals
Support for Custom dimensions and metrics
Request multiple profiles / views at the same time we add the profile id for you
The ability to loop over days to help avoid sampling
Preview that allows you to check that your data is returning correctly before saving the package.
Tutorial Google Analytics SSIS Task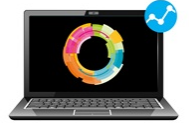 TARGIT Data Reader for Google Analytics